Incredibly good. Inspired by Grimm's fairytale of the HANDLESS MAIDEN – The Sacred Lies of Minnow Bly is about a girl brave enough to flee the cult that cost her not only her hands but also her freedom and landed her straight into juvie.
MINNOW BLY was an excellent read with greatly flawed characters, amazingly timed storytelling and emotions pouring out of every page. It stars with the line 'I'm a blood-soaked girl' and continued to hold my attention after that. It features a crazy but realistic cult (lead by a pseudo prophet), interesting girls that defy the cliché vision of prison inmates, a kindhearted doctor/lawyer full of hidden pain and a story worth telling – and that's Minnow's.
This was interesting. I tried to really stress that word because it's basically the main emotion that I felt while reading this book. I was intrigued, fascinated and interested in finding out what happened, how it happened, why it happened and how everything would end. And that kept me going. I read this book in one sitting. It was THAT good.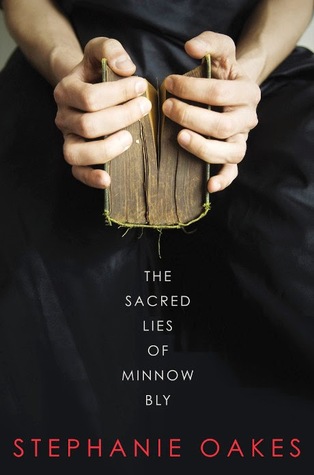 Blurb: "The Kevinian cult has taken everything from seventeen-year-old Minnow: twelve years of her life, her family, her ability to trust.
And when she rebelled, they took away her hands, too.
Now their Prophet has been murdered and their camp set aflame, and it's clear that Minnow knows something—but she's not talking. As she languishes in juvenile detention, she struggles to un-learn everything she has been taught to believe, adjusting to a life behind bars and recounting the events that led up to her incarceration. But when an FBI detective approaches her about making a deal, Minnow sees she can have the freedom she always dreamed of—if she's willing to part with the terrible secrets of her past."