I'm surprised. I didn't think that I would like this and I did. I didn't think that I would cry and I did.
This was beautiful and hard-hitting, it packed a punch. I adored the f/f relationship, the kindness of the characters, the deep bond between them, the way the story was told. The way it grew on me. The way they grew on me. I loved the feelings it made me feel, the heartbreak and the sadness, the melancholia and the love. The last chapters got me, really got through to me. It made me ache. WE ARE OKAY is a book that I'm probably going to think about for some time. I already have the feeling that it still has so much to offer and to give and to tell – and it's highly likely that I'll re-read this next year when I'm in college.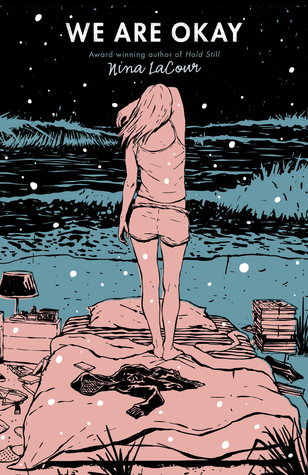 Synopsis: "Marin hasn't spoken to anyone from her old life since the day she left everything behind. No one knows the truth about those final weeks. Not even her best friend, Mabel. But even thousands of miles away from the California coast, at college in New York, Marin still feels the pull of the life and tragedy she's tried to outrun. Now, months later, alone in an emptied dorm for winter break, Marin waits. Mabel is coming to visit, and Marin will be forced to face everything that's been left unsaid and finally confront the loneliness that has made a home in her heart."
---
I will definitely keep my eyes open for Nina LaCour's books in the future and I'll probably give her other books a chance.